Article Written by Project Vanity
Product Photography by Perkin Gohio
This story is brought to you by Avon
I hit my mid-30s halfway through this year, just a couple of months after our son turned a year old. My hobbies now include taking daily selfies with our hyperactive toddler. Being the beauty writer that I am, I cannot help but notice the huge difference between his skin and mine. Baby skin is just so plump and bouncy! And while I have nothing against aging, I would still like to delay signs of it when it comes to my skin.
Unfortunately, my skin is starting to tell a different story which can be attributed to the steady loss of collagen. A bit of sagging has started which can be seen on my eyebrow area and cheeks. My pores are more visible, and some fine lines are settling down around my eye and mouth area. I'm sure you can imagine just how excited I was when I first heard about Avon's newest skincare breakthrough!
The Avon Anew Skin Reset Plumping Shots "promises to reverse seven years' worth of collagen loss in just seven days."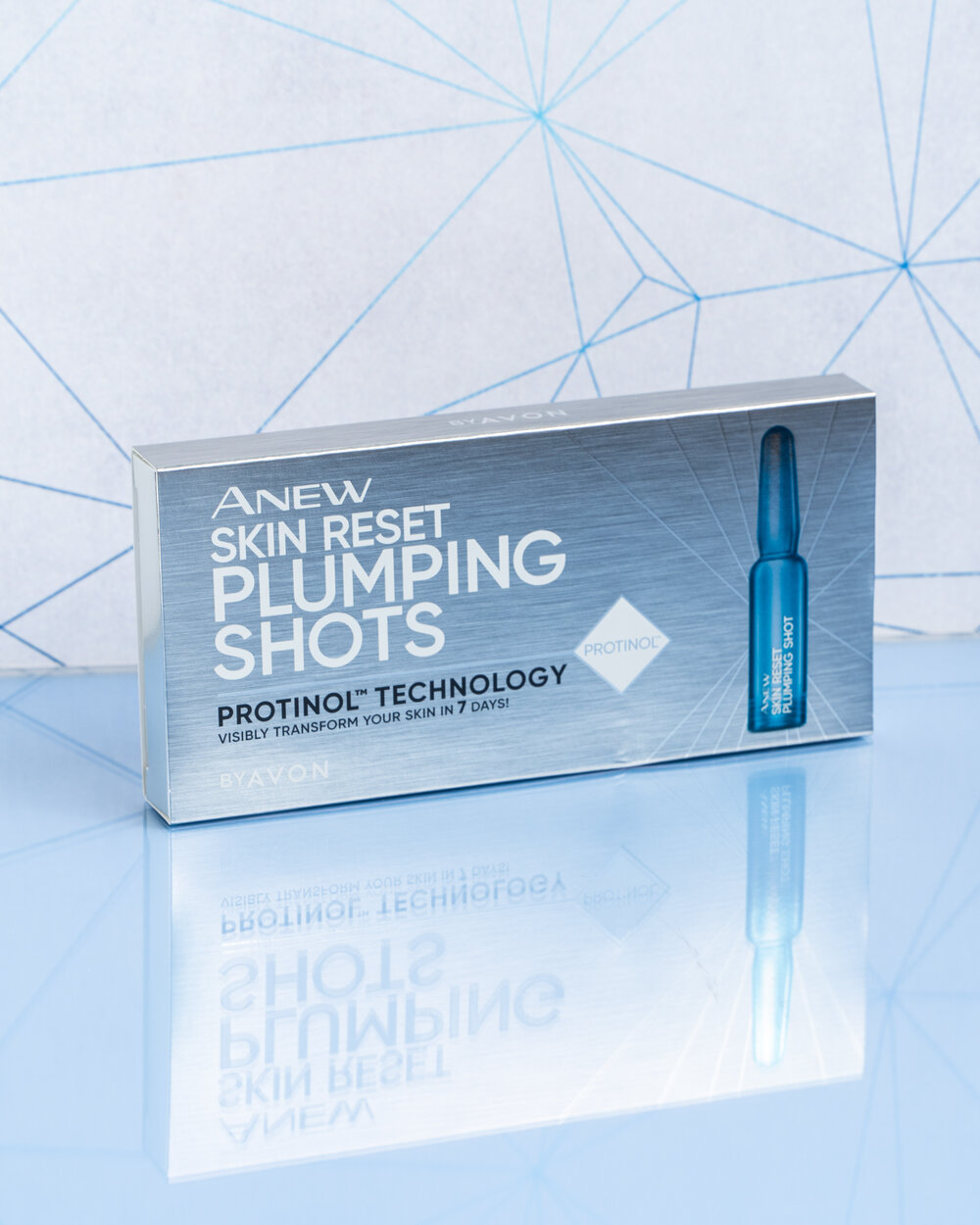 Avon has a long tradition of breaking skincare barriers. They were the first to stabilize Retinol in 1986 and they were the first company to mass market AHA in 1992. They also stabilized Vitamin C for their serums in 1999 and in 2009 launched the first-ever injectable topical Hyaluronic Acid treatment. Fast forward to today and Avon is introducing to us their patented active ingredient, Protinol™. This is the main active ingredient found in the Avon Anew Skin Reset Plumping Shots which "has the ability to upgrade the skin's collagen production in such a way that it is able to help restore 'baby' collagen. This is an effect that has never been seen in topical skincare products before." Interesting, right?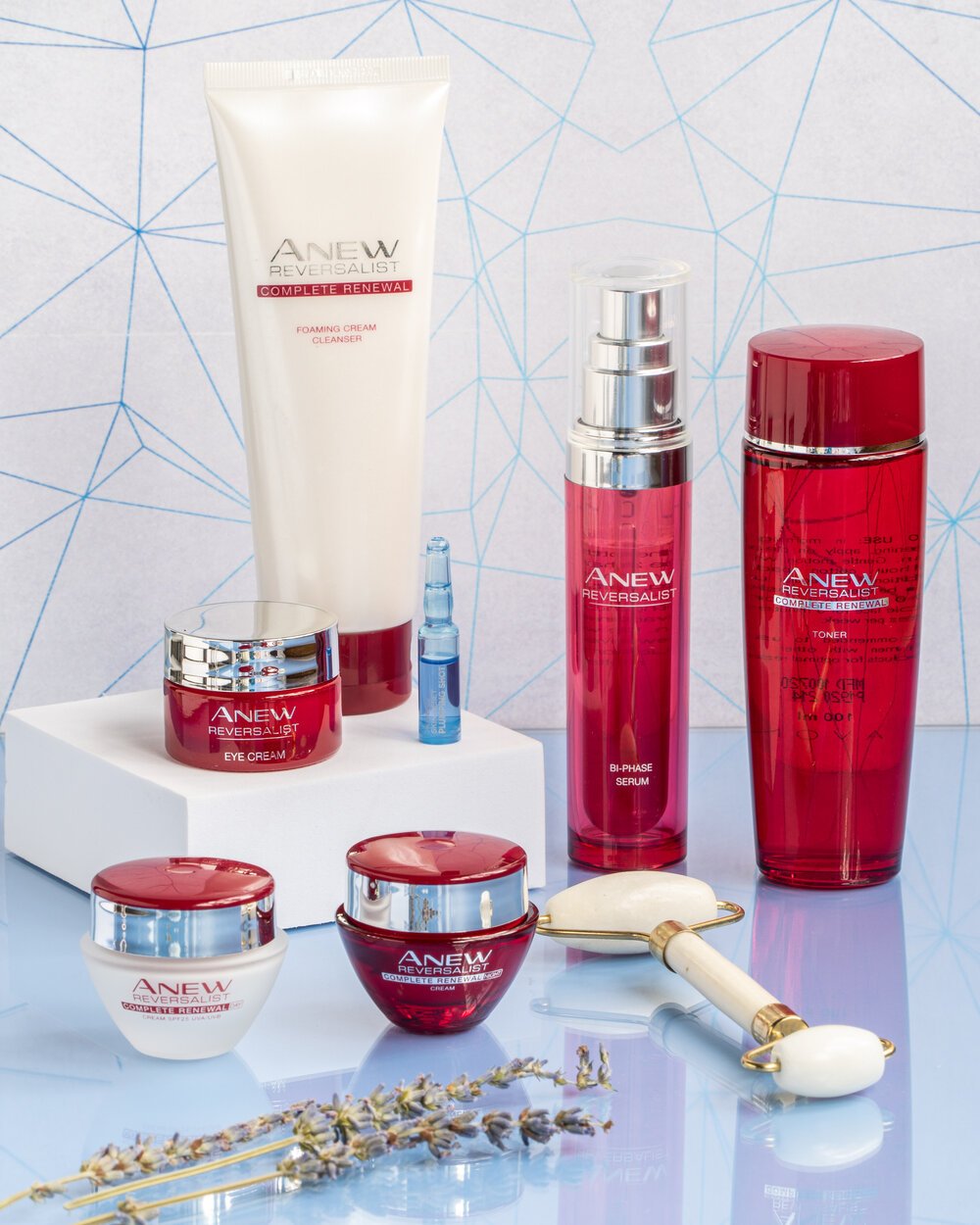 Apparently, the difference between adult skin and baby skin is the balanced presence of collagen type 1 and collagen type 3 ('baby' collagen). These two collagen types hold our skin together. "Think of collagen type 1 as building's walls, which are propped up in place by a foundation of collagen type 3. Both are required for best results. And this is what Protinol™ is able to mimic." This is all fascinating to me so I reached out to Avon to know more about the Anew Skin Reset Plumping Shots and their breakthrough ingredient, Protinol™.
My first impressions of the new Avon Anew Skin Reset Plumping Shots with Protinol™ has been good so far. I'm curious to know why it is specified that the Plumping Shots must only be used once a month? Can it be used say, like twice a week to spread out the 7 doses per month?
Avon: We're glad you're having a good experience with Protinol! The product itself is a powerful and potent ampoule that helps stimulate Collagen types 1 and 3 - both are crucial in skin structure and elasticity. Type 3 (otherwise known as "baby collagen") provides the framework type 1 binds to. Other collagen treatments may cater to one type of collagen but Protinol addresses both.
In terms of use, once a month in a succession of seven days is the optimal frequency so spreading out the use is not the best way to experience it.
When it comes to the question if using the shots more often than the monthly suggestion will get you better results, the best thing about Protinol is that just with those 7 small ampoules every month you get the full effect of this breakthrough ingredient. We have tests that show Protinol used for 28 days straight with no adverse effects - so you get more value for your money because you don't need to use more than the suggested amount. You can just use a serum every day for maintenance and the plumping shots for a booster effect monthly.
Why is it recommended that the Plumping Shots be used during the night routine? Can I use it in the morning also?
Avon: The best application of Protinol is at night to achieve maximum results, just because during the day skin is exposed to external aggressors like: UV light, pollution, and humidity which could slow down results and collagen production. However, if you're just staying at home, Protinol can be used in the morning as you won't be exposed to the external aggressors listed above.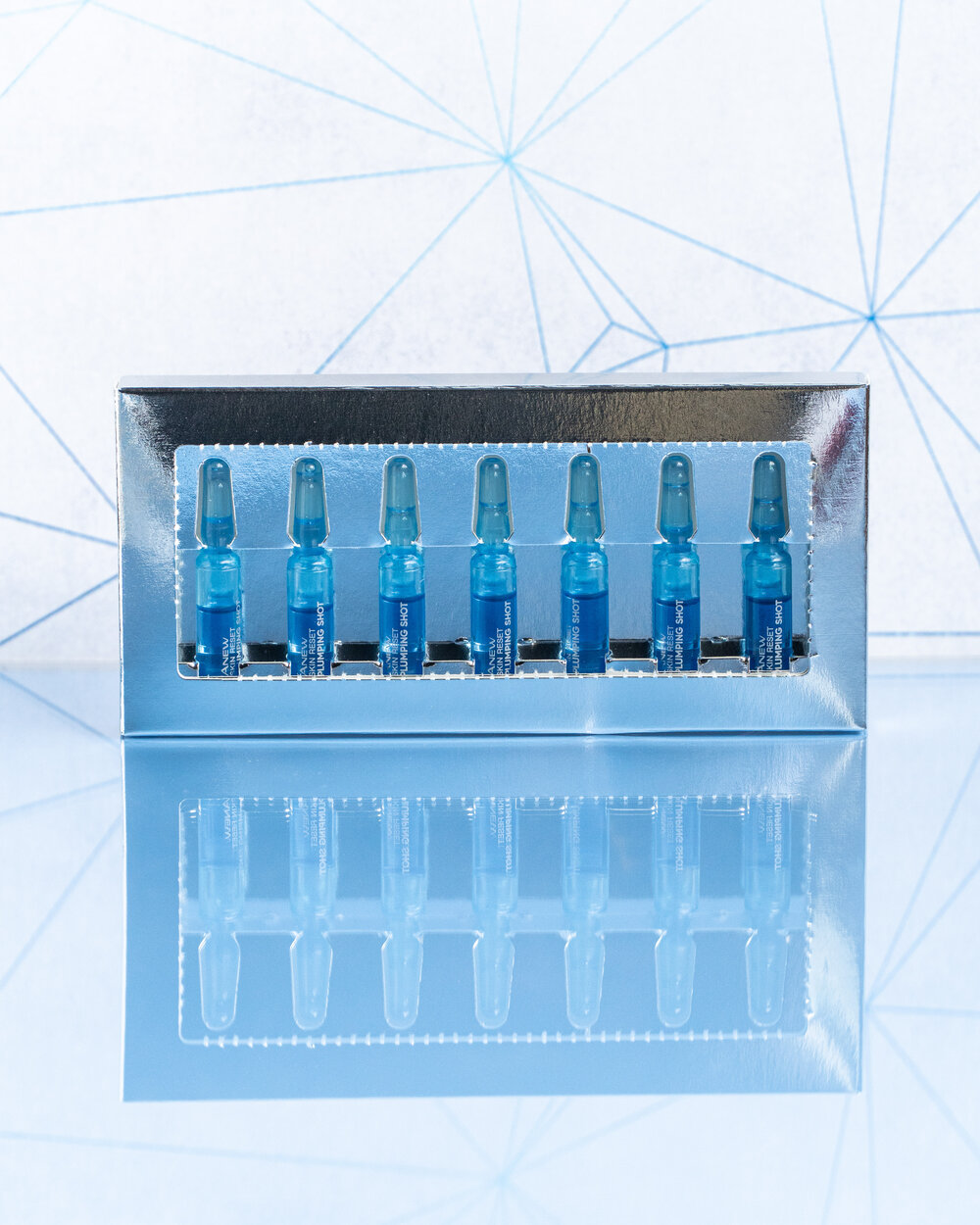 Can the Plumping Shots be used at the same time with other Avon serums or other potent skincare products in general? Are there any ingredients that I need to avoid when using the Plumping Shots?
Avon: The Avon Anew Skin Reset Plumping Shots is a 7-day treatment that helps restore collagen within 7 days, its great and potent formulation additionally helps hydrate, plump, and firm the skin. Because of this potent formula, when using Protinol during your night routine we don't suggest in general that you use it at the same time with a serum.
You can integrate the plumping shots into the evening half of your skincare regimen. While you do your normal routine of cleansing, toning, using a serum, then moisturizing your face and eye area in the morning—at the evening part of your routine, you simply replace your serum with the plumping shot every night for seven consecutive nights. Once done using the product for a week, you can resume your normal skincare routine at night and go back to using your serum.
When it comes to ingredients to avoid mixing with Protinol, steer clear from using the Plumping Shots together with products containing Alpha Hydroxy Acids (AHA) & Beta Hydroxy Acids (BHA).
What's the best Avon Skincare line to work with the Avon Anew Skin Reset Plumping Shots? Or will we get the best results when paired with the Anew Reversalist Line?
Protinol can be adapted into any skincare routine for any age group, but the best efficacy is achieved when it is used with our Anew Products. Avon has different Anew ranges that cater to the specific skincare needs of anyone at a certain age. Anew Retroactive for example is our preventive skincare range for users 25 and up, for those 35 and up our best-selling customer favorite Anew Reversalist range offers skin renewing benefits. We also have the Anew Ultimate range for women age 45 and up which helps combat multiple signs of aging--those are just a few of our skincare offerings!
Also, even if used with different Avon skincare, anyone can experience the same great transformative benefits of Protinol when applied using the plumping massage technique: Apply product to clean skin massaging in upward motions over the face, neck and chest. Seal in with a moisturizer in the same direction.
Protinol™ sounds really amazing and I'm excited to finish my 7days of use. I'm wondering if Avon has plans on expanding the Protinol™ product line? Like a quick face mask for those moments where you just need a boost? I'm imagining this can be useful for special occasions and events.
Avon: Yes! We believe our audience has yet to see all that Protinol has to offer and because of the great experience our customer base has using the plumping shots, we are actually exploring a sheet mask with Protinol as one of our new exciting products next year!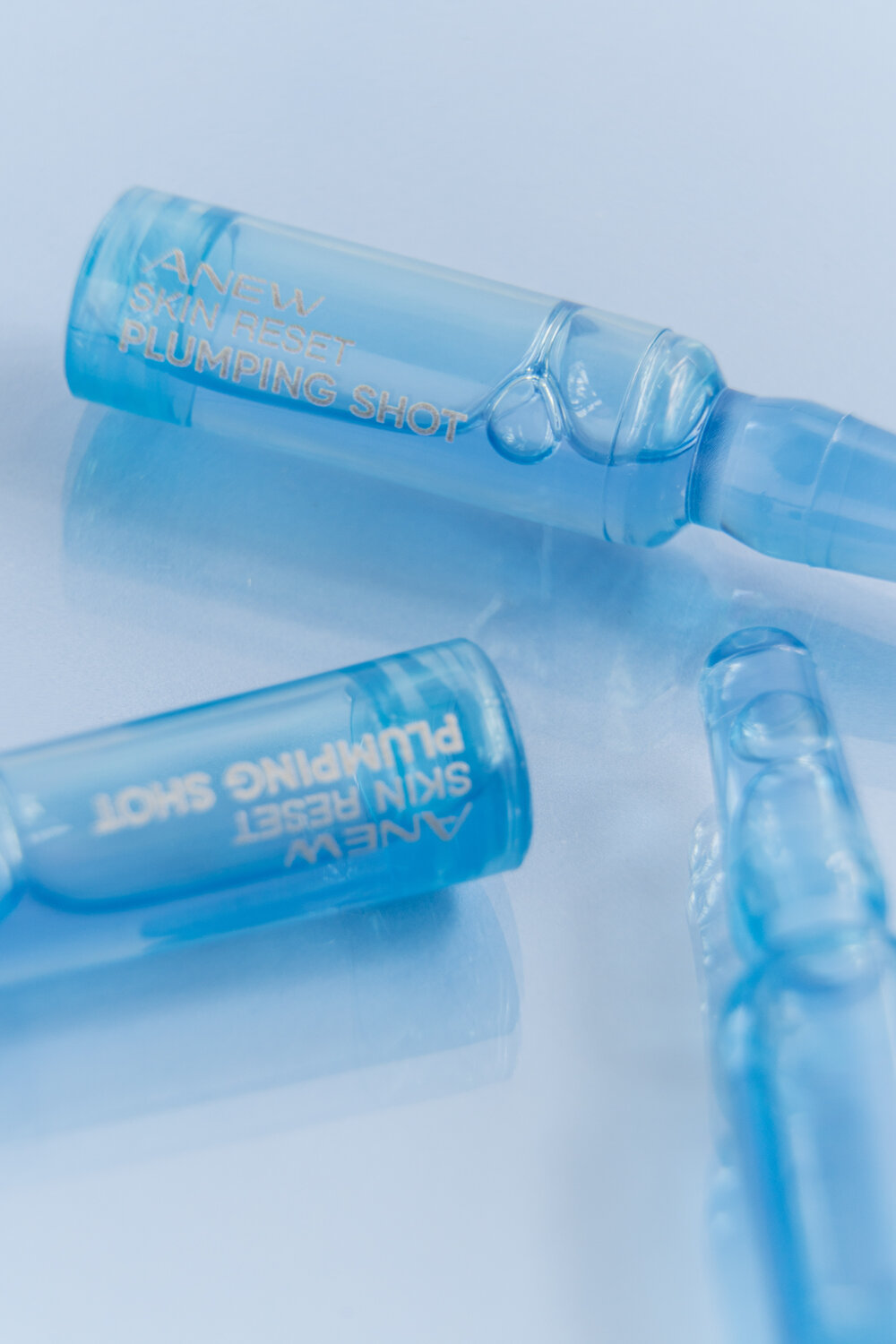 The Avon Anew Skin Reset Plumping Shots come in a set of 7 single-dose ampoules to be used in 7 days. I used them in conjunction with the Avon Anew Reversalist Line which has proven to be effective for anti-aging. I once gifted my Aunt the entire line and her age spots disappeared! I apply one shot at night after cleansing and before moisturizing.
The blue-tinged liquid of the Avon Anew Skin Reset Plumping Shot is somewhat tacky but is easily absorbed onto the skin. Even after just my first use of the product, I already felt like my skin was being plumped up. There's a visible lift in my skin, particularly in the cheeks area. This effect is even more visible after the third day of use.
My pores are also noticeably less pronounced, and my skin feels tighter. I like how fast-acting the shots are as I can really see and feel the improvements daily. My undereye area looks less saggy too with some of the fine lines seemingly filling up.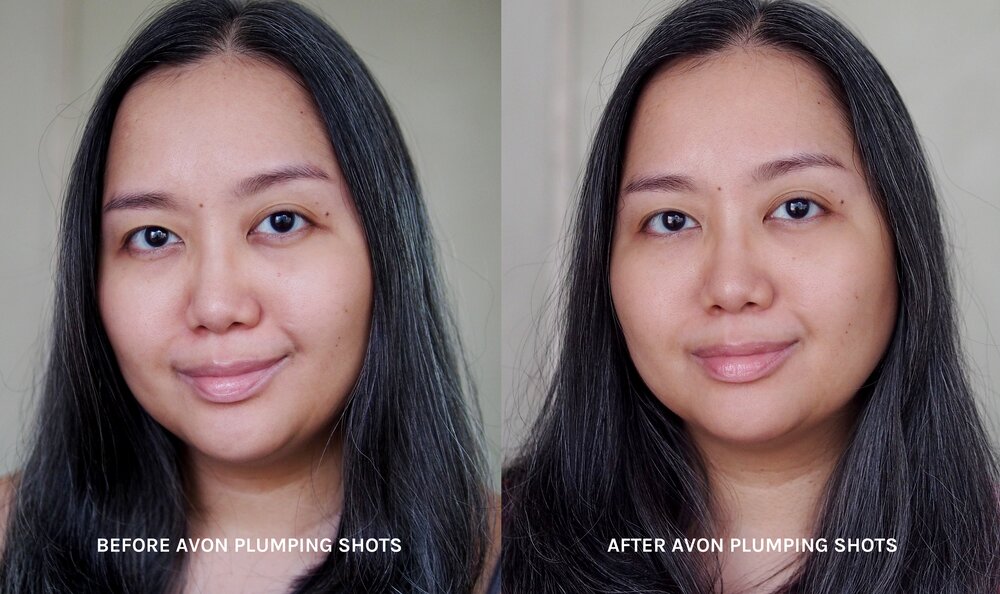 L-R: Before, After 7 Days of the Avon Anew Skin Reset Plumping Shots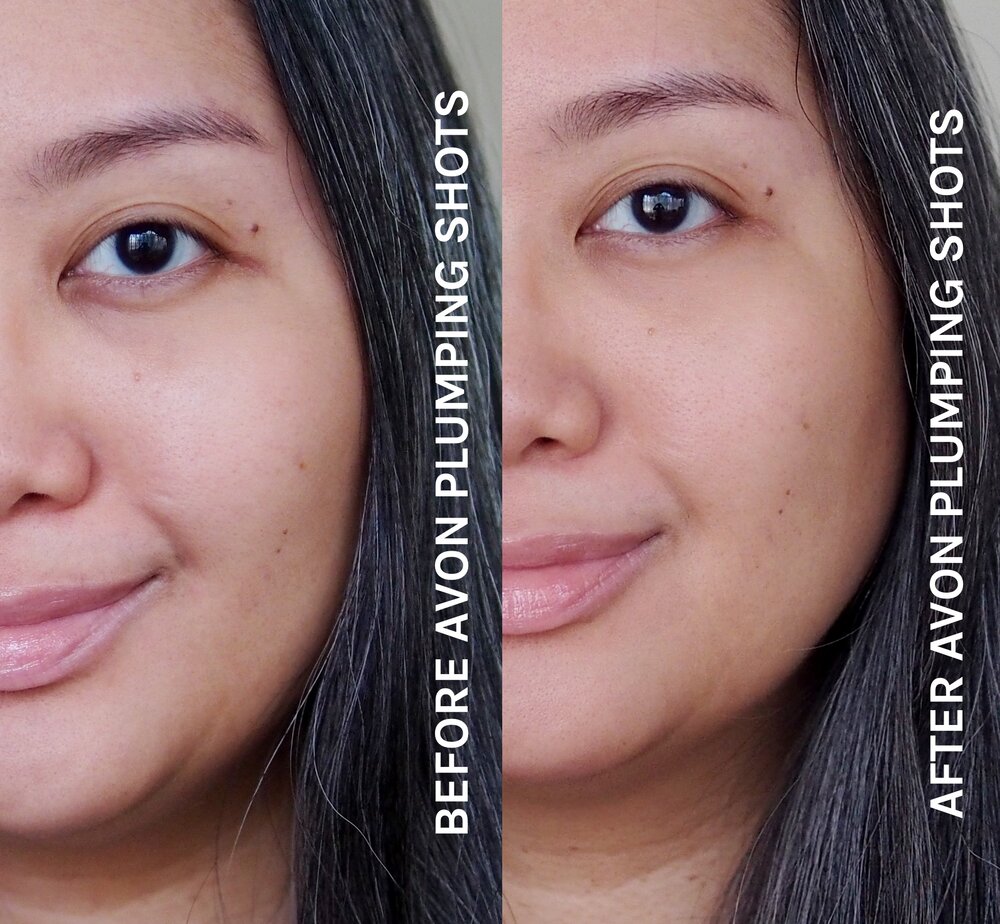 L-R: Close-up Photos of Before, After 7 Days of the Avon Anew Skin Reset Plumping Shots
Now that I have finished my 7 Days of using the Avon Anew Skin Reset Plumping Shots, I miss using it! I can see myself reaching for it if there is a special occasion or event, aside from for monthly maintenance. At the regular price of P1,299 for one box of the Plumping Shots, it can be likened to that once a month facial treatment but done in the comfort of your own home. I can only imagine what skin would look like with regular use of Protinol™ and with my experience of using it for a week, I'm looking forward to it.
To learn more, connect with your local Avon Representative or visit www.avon.ph